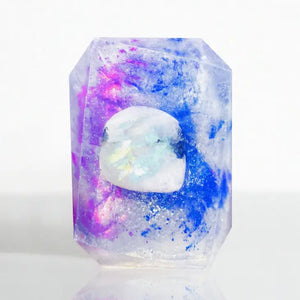 2.5 oz crystal-infused bar soap

Vegan, cruelty-free, paraffin, and paraben-free

Infused with Rainbow Moonstone crystal

Scented in a warm peppermint and lime blend

Handmade in California
Every Crystal Bar Soap is handmade in Los Angeles by our all-woman team. Made with Intention – each bar of soap is 100% vegan, cruelty-free, paraben and paraffin free and embedded with an ethnically sourced tumbled crystal.
Every bar of soap is sealed for freshness and labeled with ingredients and information about the gemstone inside. Enhanced with an embedded rainbow moonstone crystal, which acts as a prism diffusing energy throughout the aura. Aligned with the goddess, rainbow moonstone connects the energies and spirits of nature.
These beautiful crystals reflect within them the magical healing qualities of the vibrations of the moon. The blend of lime and peppermint essential oils helps to nourish your soul while you open up to the offerings of the moon.