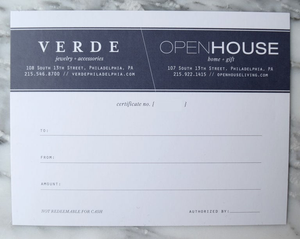 Give the perfect gift!
This gift certificate is redeemable (in store only) at Open House at 107 South 13th Street in Philadelphia and Verde at 108 South 13th St in Philadelphia.
= IS IT A GIFT? =
IF MAILING DIRECTLY TO YOUR RECIPIENT, ENTER THEIR NAME AS THE CONTACT SO THE SHIPPING ADDRESS READS CORRECTLY. ENTER YOUR EMAIL SO THAT THE ORDER RECEIPT WILL GO TO YOU.
Gift certificates will be mailed though USPS and should arrive in 3-5 business days.
Let us know in the "notes to seller" section of  checkout. Tell us the "to" & "from" and we can include a short message to send along with your items