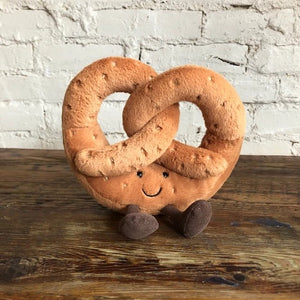 Freckly, friendly and fresh from the bakery, Amuseable Pretzel is knotty but nice! This squishy silly is golden brown, with cocoa cord boots and stitchy salt speckles! Huggy and hearty - a brilliant breakfast buddy!
Suitable from birth.
7" by 7"
Hand wash only; do not tumble dry, dry clean or iron. Not recommended to clean in a washing machine.