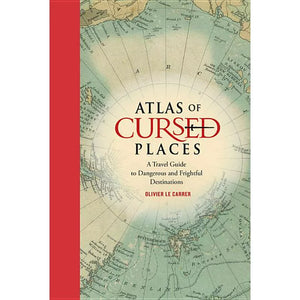 Atlas Obscura says this lushly illustrated New York Times bestselling guide to dozens of dangerous, eerie, and infamous locations is the perfect gift for "those who believe the world is still full of mysteries to investigate."

Pick up the acclaimed Atlas of Cursed Places and visit the world's most nerve-wracking locations. With pithy historical profiles, vintage full-color maps, and haunting tales that will color your perspective (and send tingles down your spine), this is a clever gift for the intrepid traveler or armchair adventurer who wants to explore destinations both remarkable and daunting. Visit:

a coal town where the ground is constantly on fire

a Zambian national park where more than 8 million bats darken the skies

the infamous suicide location of Aokigahara Forest near Mount Fuji

the lesser-known Nevada triangle, in which dozens of aircraft have inexplicably disappeared

Beautifully packaged and written with a twisty sense of humor, Atlas of Cursed Places puts your quirky side on the map.