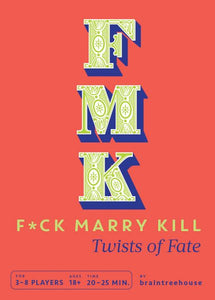 It's the FMK you know and love—but now with silly, cute, gross, and side-splitting twists!
Draw 4 Character cards.
Add 4 random Twist cards.
Decide who to Frog, who to Marry, and who to Kill.
Now to find out who your true friends are! It's up to the other players to vote for the choices they think you made.
THEY get points when their vote is correct. YOU score each time your choices go unchallenged. All the fun is in justifying your terrible choices.