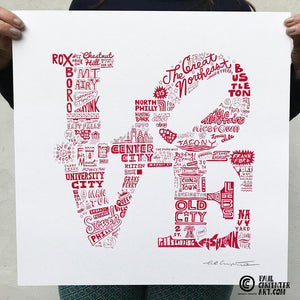 Hand drawn and screen printed in Philadelphia, PA, this illustration is local artist Paul Carpenter's rendition of Love creating a map of the Philadelphia neighborhoods.
16 x 16 Open Edition Screen Print

Hand Printed and Signed by Paul Carpenter

Printed on French Paper's 100lb Standard White Kraft, Kraft-Tone Paper.
Red ink.